Mid Sussex Model Engineering club exhibited 16 models at this years Brighton Model World, and here are pictures of them on our stand together with video of them running where available.
"ROB ROY" 0 – 6 – 0 LOCOMOTIVE 31⁄2" Gauge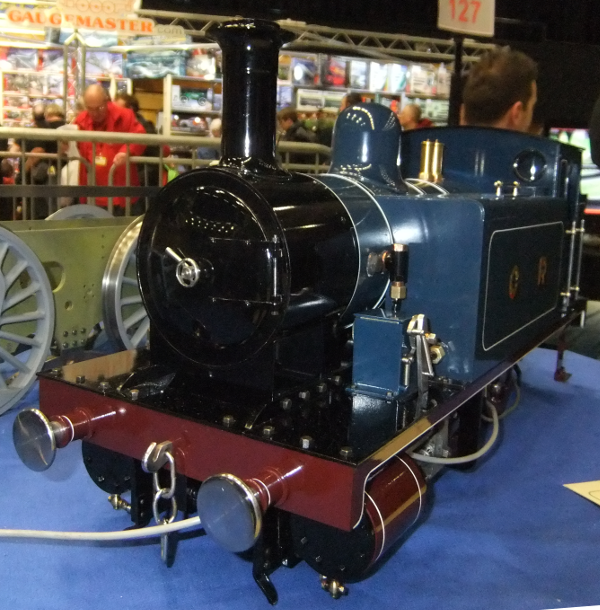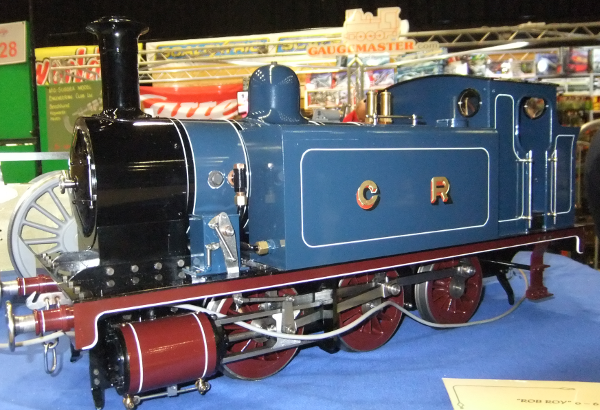 Built to a design by Martin Evans, based on a Caledonian dock - yard Engine.
Built by Colin Mosely.
CHASSIS for LB & SCR K- CLASS LOCOMOTIVE "Mogul"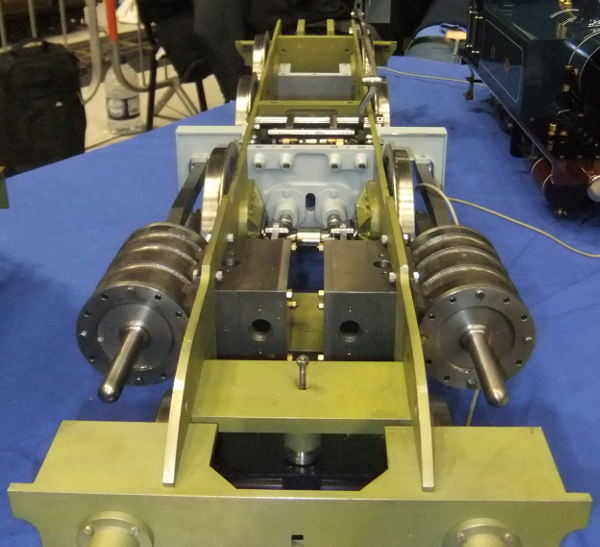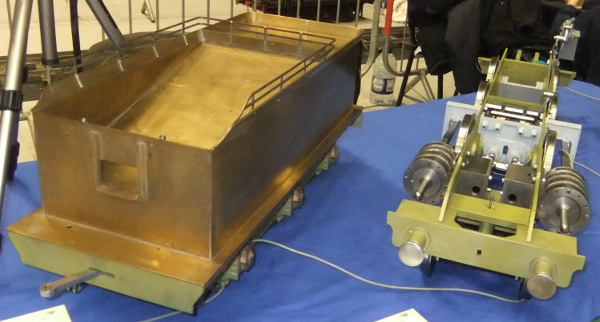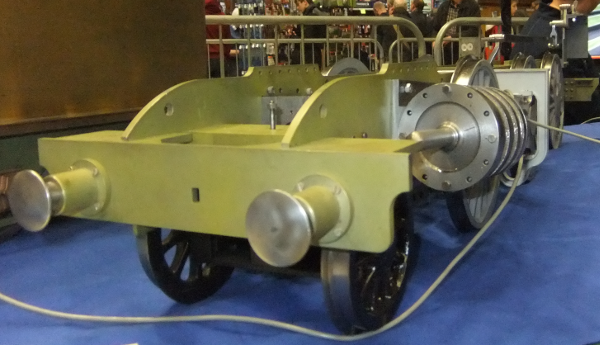 5" Gauge. Designed by Les Warnett, but no drawings were ever published.
Being built by Tony Grantham
A MODERN SOLAR-DRIVEN HOT AIR ENGINE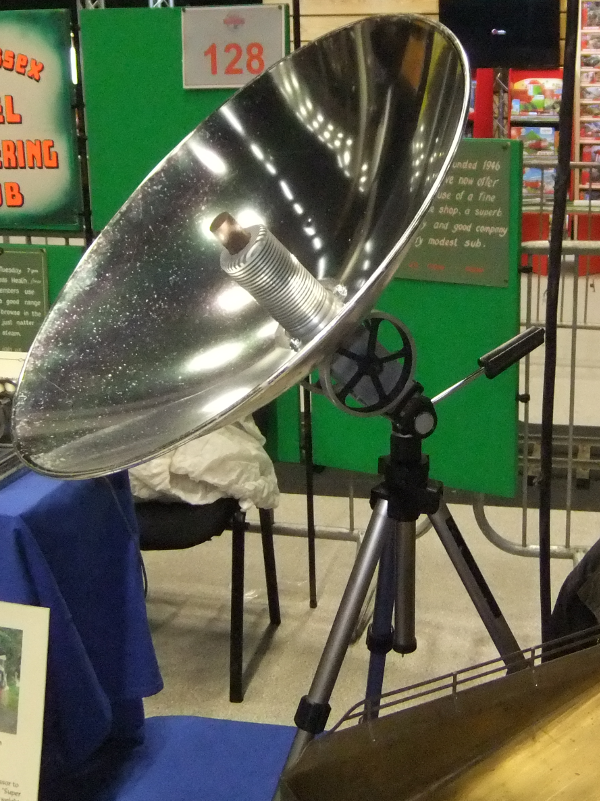 Built by 'Solar Engines', Phoenix, Arizona, circa 1976.
The engine is of the coaxial design with twin flywheels and anodised treble disc crankshaft with neatly split crankcase. The cylinder has turned cooling fins and hot cylinder at the focal centre of an aluminium parabolic reflector, 18 ins diameter.
A video of it running in October.
Works in direct sunlight.
Owned by Benedict White.
STIRLING "HOT AIR" ENGINE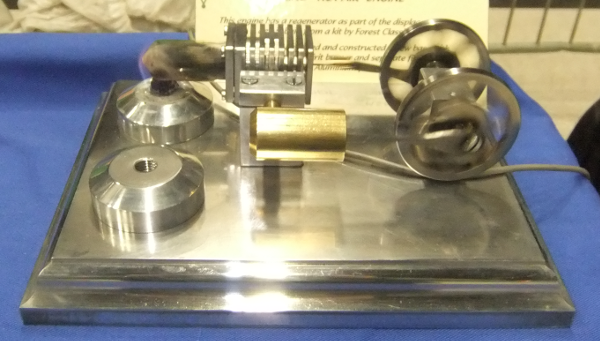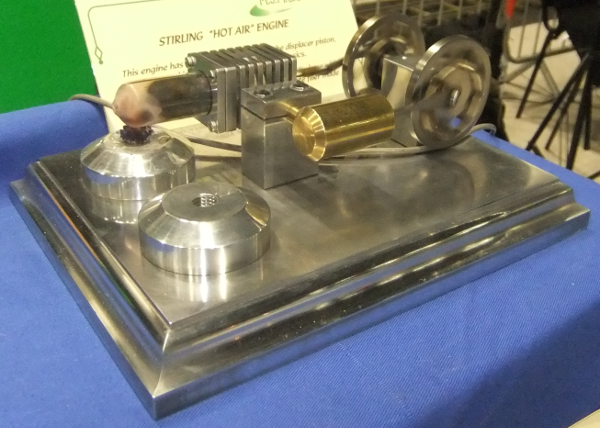 This engine has a regenerator as part of the displacer piston, and is built from a kit by Forest Classics. The builder has designed and constructed a new base with integral methylated spirit burner and separate filler made from Aluminium plate.
Built by Benedict White.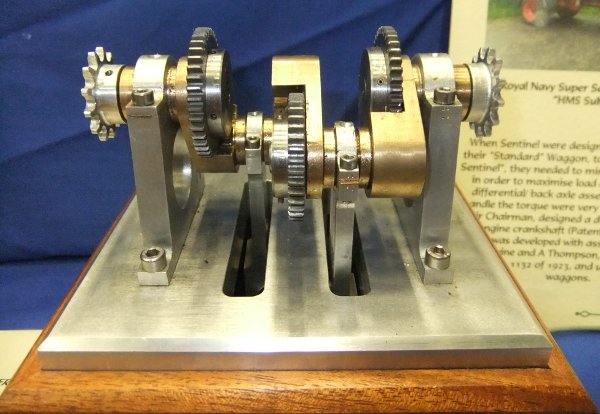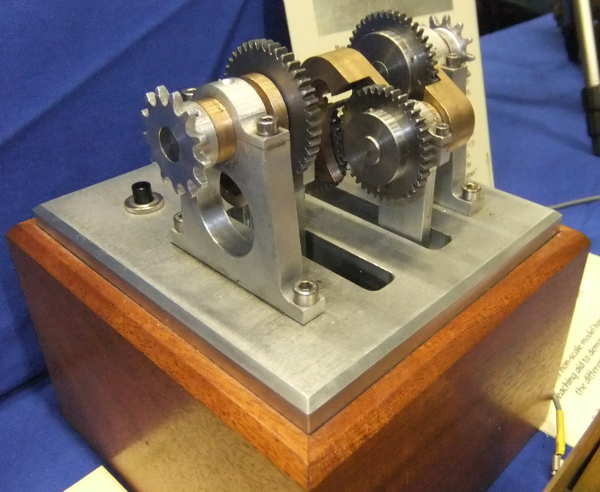 This non-scale model has been built as a teaching aid to demonstrate the operation of the differential within the crankshaft.
When Sentinel were designing the successor to their "Standard" Waggon, to be called the "Super Sentinel", they needed to minimise vehicle weight, in order to maximise load capacity. Available differential/back axle assemblies that would handle the torque were very heavy, so S.E.Alley, their Chairman, designed a differential built into the engine crankshaft (Patent 15912/16 of 1917) This was developed with assistance from G. Woodvine and A Thompson, culminating in Patent No. 1132 of 1923, and used in all "Super" waggons.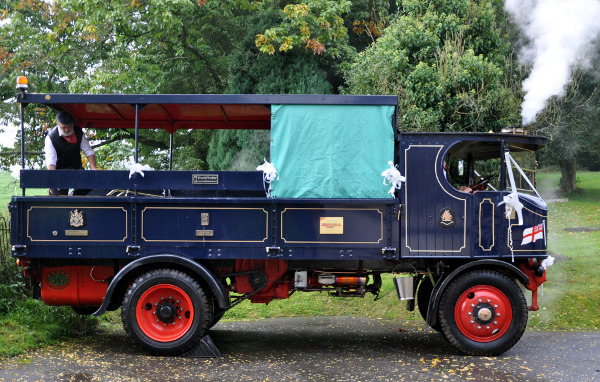 Example wagon on which the crank is used.
Built by
Alan Reynolds
"SUN" STEAM ENGINE.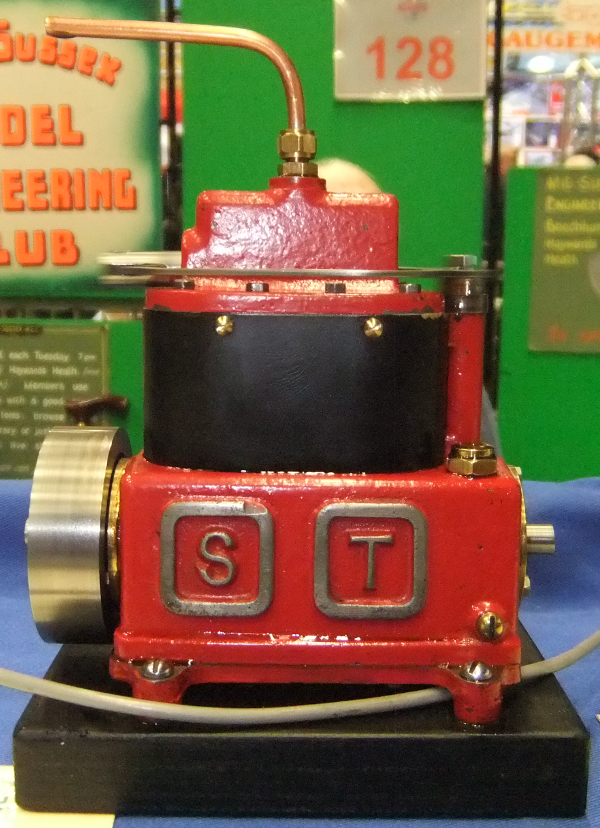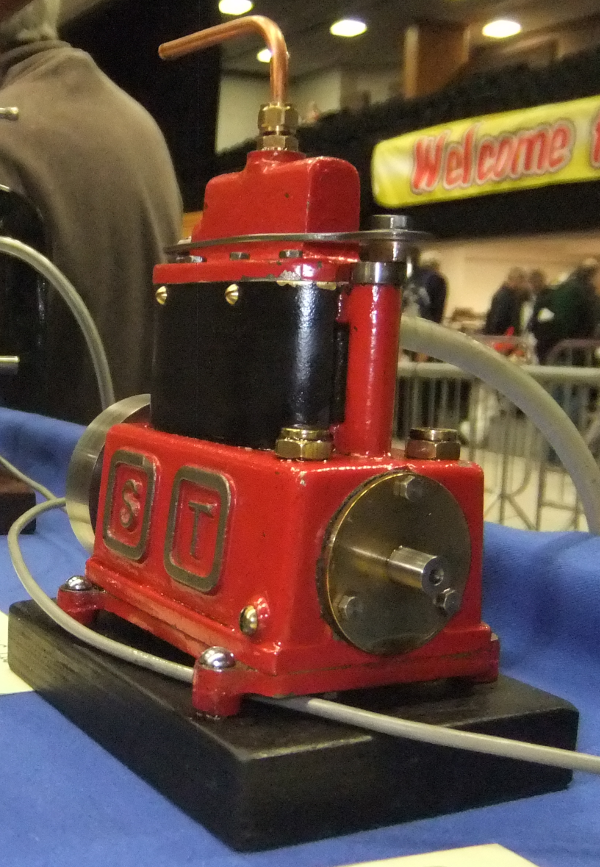 This model was introduced by Stuart Turner in 1927 to power a boat of up to 4ft 6in long. Designed to run on flash steam it has two cylinders, a 180 degree crankshaft and a bevel gear driven piston valve. It has a bore and stroke of 0.75 inches. It was dropped from the Stuart Turner catalogue in 1989/90.
Video of the "Sun" running on air at the Brighton Model world exhibition.
This particular model was built from castings as a school project at the age of 15.
Built by Colin Mosley
HORIZONTAL STEAM ENGINE Stuart Turner No. 8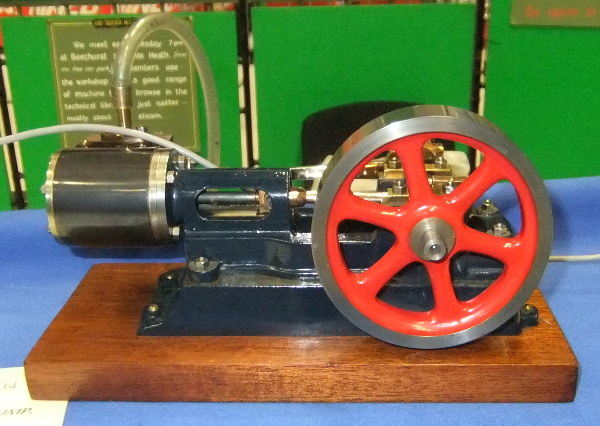 Bore 1", Stroke 1" Built from castings on a 41⁄2" lathe.
A video of the No. 8 running on air.
Built by
Colin Mosely.
SHAND MASON (1890) FIRE ENGINE STEAM PUMP.
Scale: 2" : 1 ft.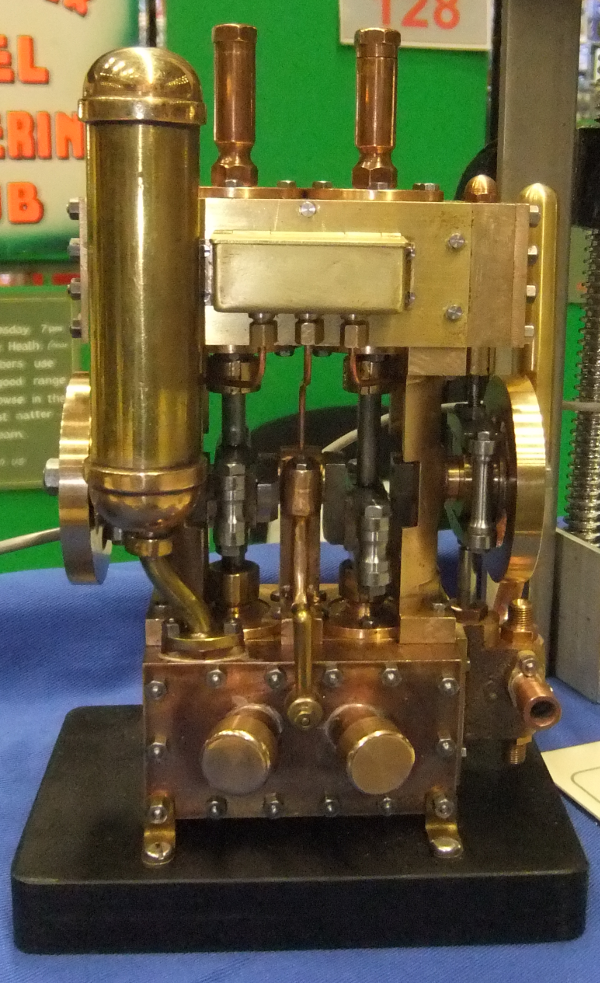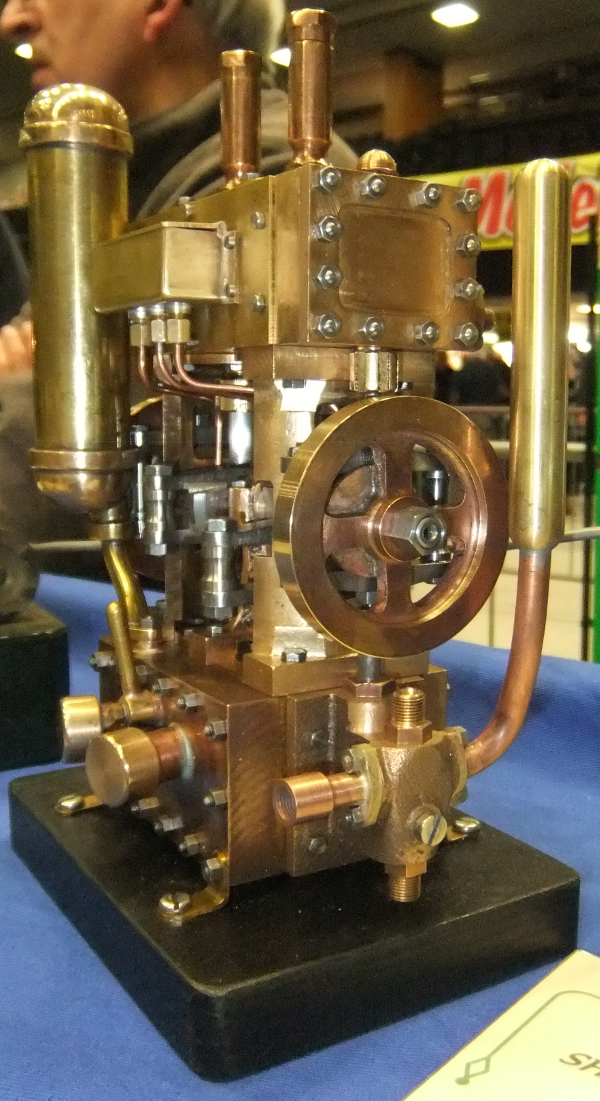 Built to a design by E.T. Westbury published in 1969. This is a twin cylinder steam pump with a 0.75 bore for the steam cylinders and 0.625 bore for the water pump.
The scotch crank arrangement enables the pump (lower cylinders) to be driven directly by the steam cylinders (on top). The horse drawn carriage and boiler for this model are also under construction and the model is virtually at the stage where the engine can be assembled into the rest of the model.
Being built by Colin Mosley
A HORIZONTAL MILL ENGINE.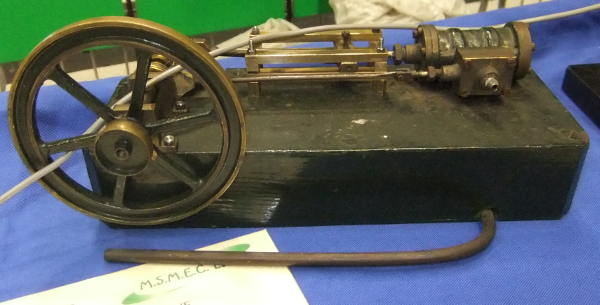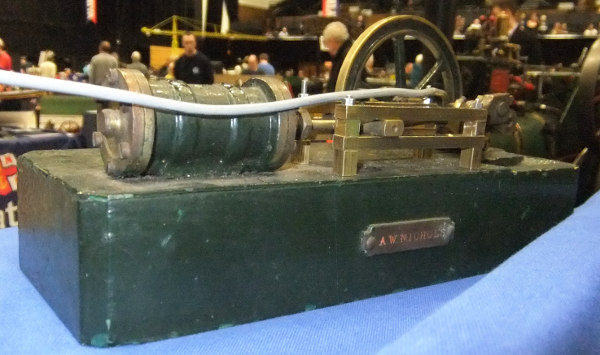 This model utilises parts from Steven's Model Dockyard and other castings by A.W. Nichols, circa 1880, The cylinder is 0.75" bore x 1.5" stroke.
Being Restored by Benedict White.
LNER J38 0 – 6 – 0 TENDER LOCOMOTIVE Gauge 1, (1 3⁄4" or 45mm).

This locomotive was built from a Barrett Engineering kit, especially designed to be built by beginners. Whilst access to a workshop always helps, the loco can be built with basic hand tools. The loco is live steam powered, with a working pressure of 50 p.s.i., and uses methylated spirit as fuel.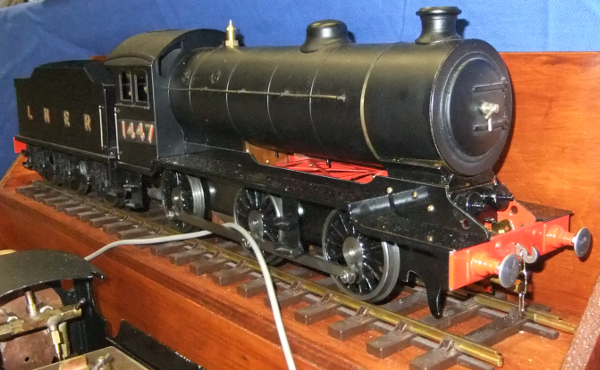 The J38 locomotive was introduced by the LNER in 1926, and 35 were built. With a tractive effort of some 28,415lb., they were the third most powerful British 0 – 6 – 0 locomotive. They spent their entire working lives in Scotland.
Built by Ricky Smith.
LMS 4F 0 – 6 – 0 TENDER LOCOMOTIVE. Gauge 1.
Nearly Finished!

This is a typical example of the Gauge One Model Railway Association "Project" design, based on the LMS 4F Loco. Whilst designed for beginners, a small lathe and drilling machine (or small milling machine) are needed, as it is largely built from scratch. The only castings used are those for the wheels, chimney, dome and tender axleboxes. It is live steam powered and is fuelled by methylated spirit, with a working pressure of 50 p.s.i. Since exhibiting last year, progress has been made with the firebox cladding, but the loco still needs some tuning to run well.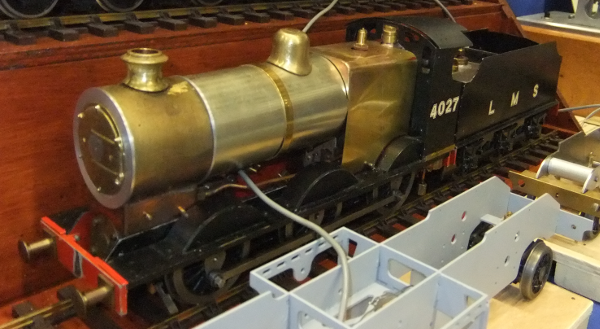 The 4F loco was originally introduced by the Midland Railway in 1911, and some 772 were eventually built and absorbed into the LMS.
Being built by Ricky Smith.
LNER K1 2 – 6 – 0 TENDER LOCOMOTIVE. Gauge 1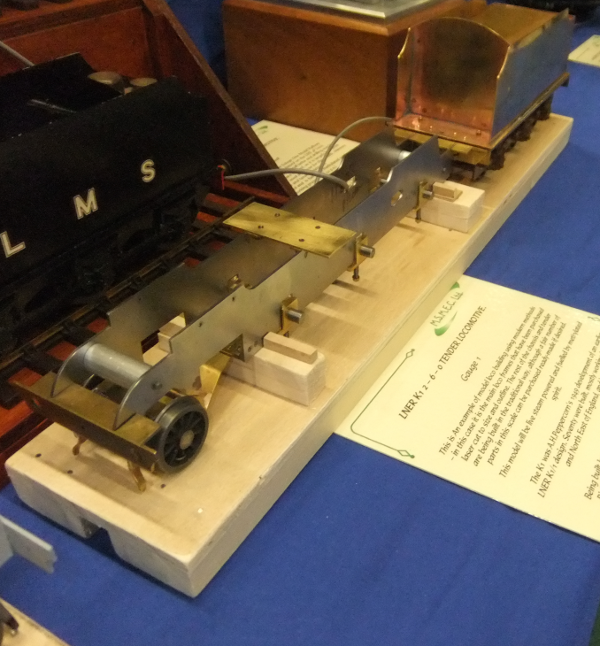 This is An example of model loco building using modern methods – in this case it is the main loco frames that have been purchased laser cut to size and outline. The rest of the chassis and tender are being built in the traditional way, although a fair number of parts in this scale can be purchased ready-made if desired. This model will be live steam powered and fuelled by methylated spirit.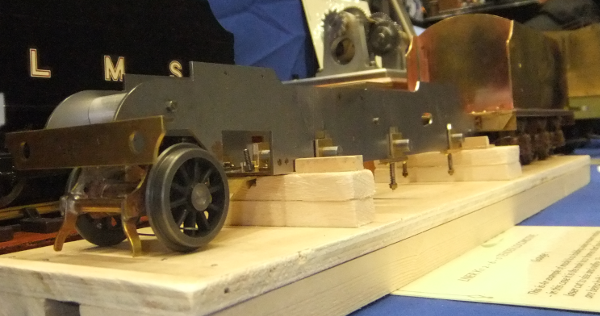 The K1 was A.H.Peppercorn's 1949 development of an earlier LNER K1/1 design. Seventy were built, mostly working in the North and North East of England, and in Scotland.
Being built by Ricky Smith
LMS 8F 2 – 8 – 0 TENDER LOCOMOTIVE Gauge 1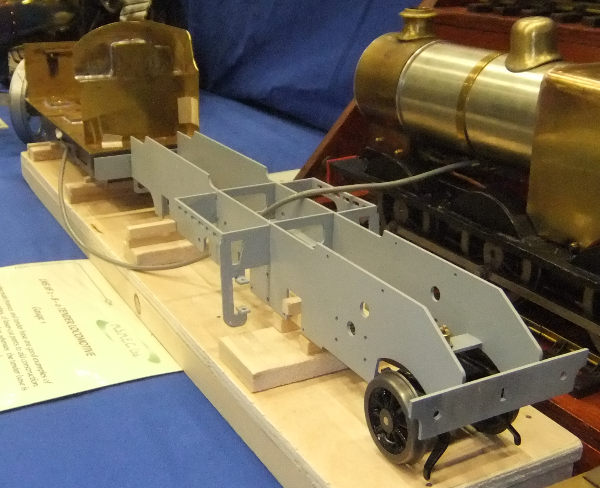 The engine main frames and tender base are good examples of the availability, nowadays, of laser-cut parts to aid construction. The frames are TIG welded together, whereas the tender base is more traditionally constructed. The model will be live steam powered and fuelled by methylated spirit, although the design is for gas firing.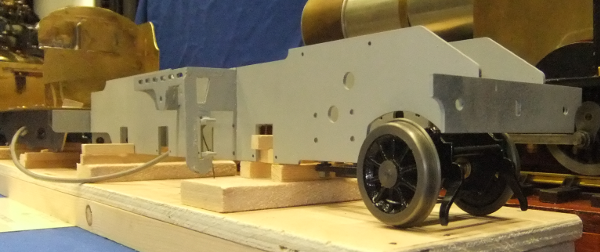 The 8F was a very successful heavy freight loco designed by William Stanier and first introduced on the LMS in 1935.
Being built by Ricky Smith
"MINI" TRACTION ENGINE.
Scale 1" : 1 ft.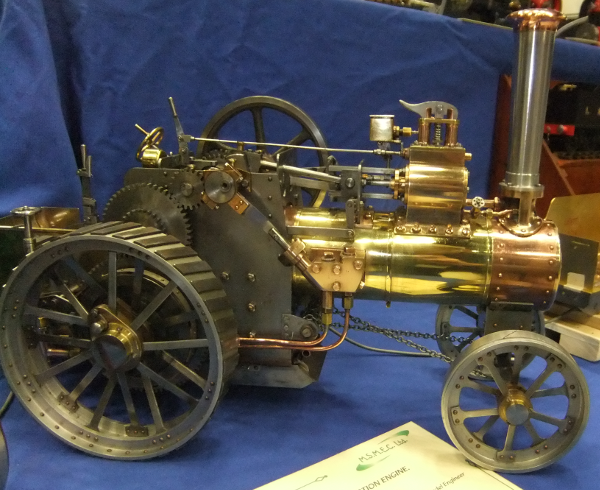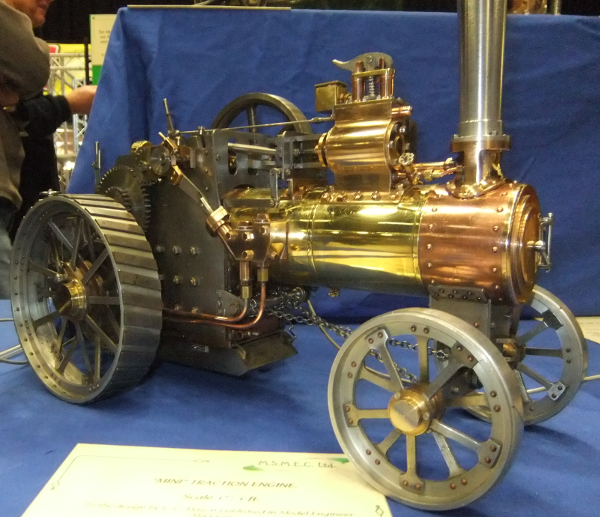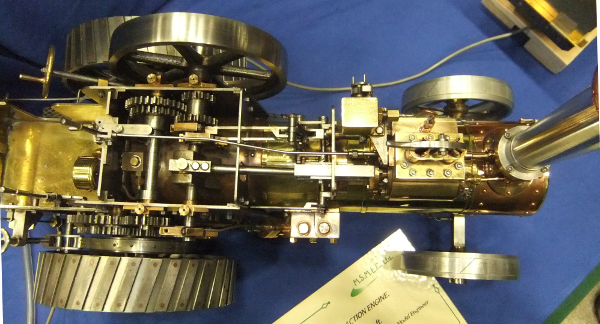 To the design by L. C. Mason published in Model Engineer Magazine. Built over a five year period, all on a 41⁄2" lathe.
A Video of the Mini running on air.
Built by Colin Mosely.
BURRELL TRACTION ENGINE
Scale: 1 1⁄2" : 1 ft.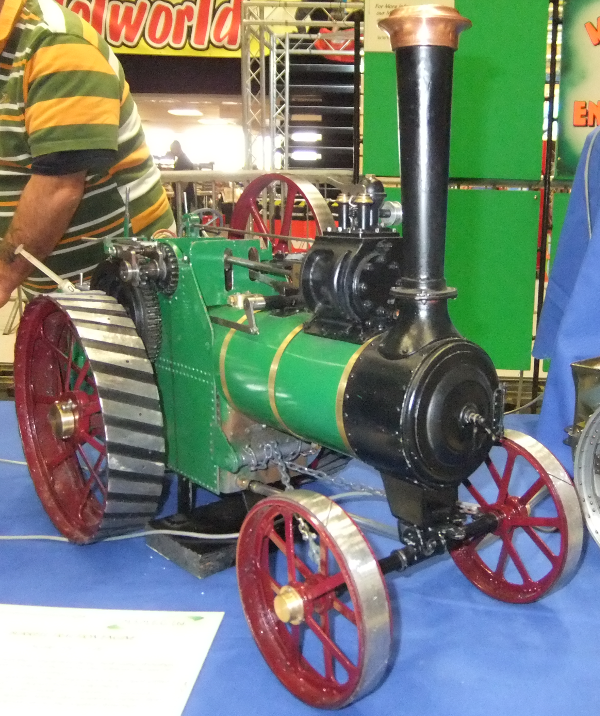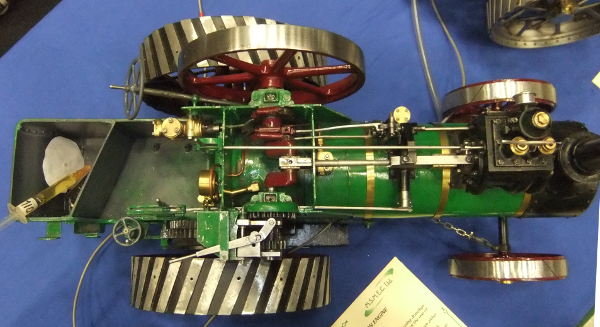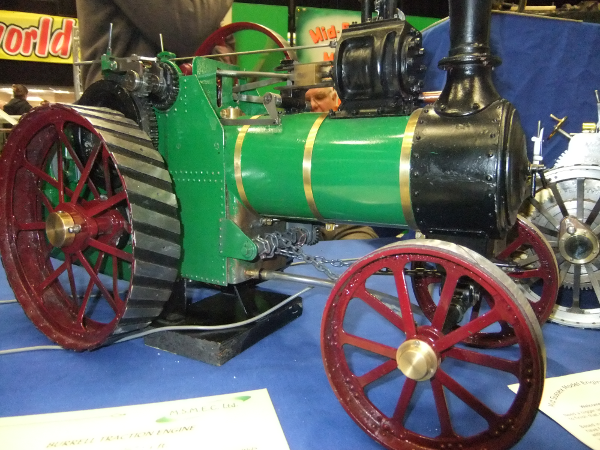 This engine is nearing completion, being built using drawings issued by Bassett-Lowke in the 1950's, but without the use of castings. Where castings are specified, the components have been either fabricated or shaped from a solid block. The coal-fired boiler is also made to conform to currently accepted standards of design, being silver soldered rather than riveted and soft soldered, as on the original drawings.
Video of the engine running on air at the Brighton Model World Exhibition 2016.
Being built by Colin Hawes.
BURRELL SINGLE CYLINDER TRACTION ENGINE
Scale: 3" : 1 ft.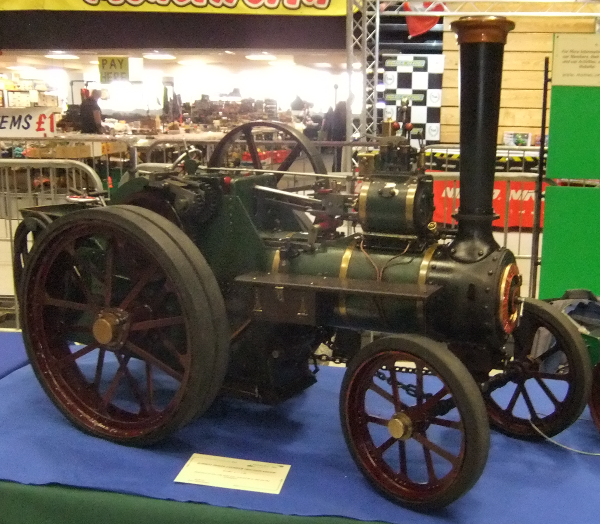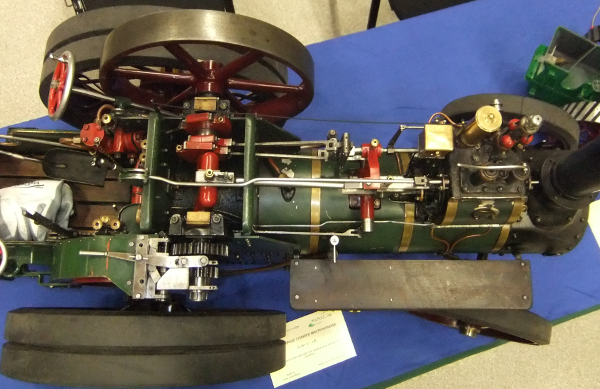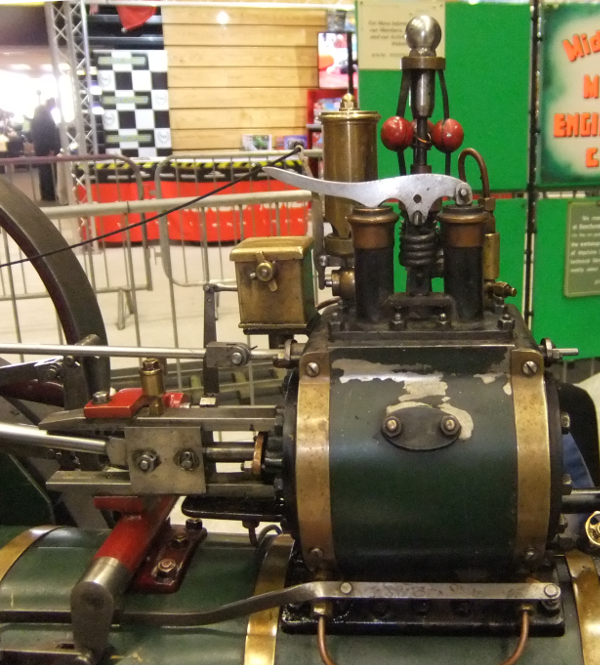 Well-used on the rally field, but cleaned up (a bit!) for the Exhibition.
Built by Tony Grantham.